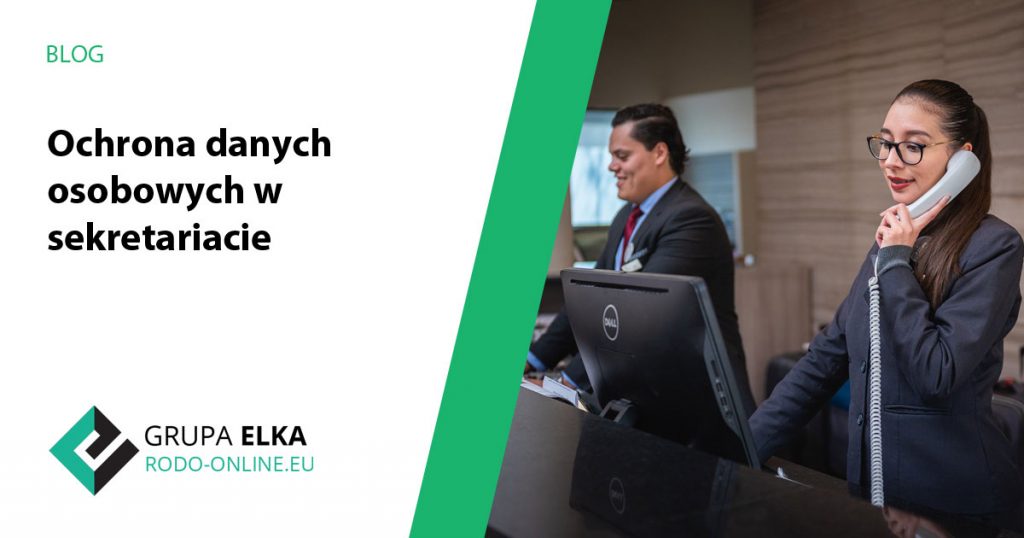 Przypominamy, że w dniu 25.04.2021 obchodzimy "Międzynarodowy Dzień Sekretarki" nieformalne święto obchodzone w wielu krajach na świecie w celu uznania i promowania pracy sekretarki i sekretarza, asystentki i asystenta, oraz pracowników pomocniczych w biurze, pojmowanych ogólnie, jako pracowników administracyjnych. Pamiętać trzeba, że pracownicy sekretariatu wykonują ciekawą pracę, gdzie duży nacisk kładzie się właśnie na ochronę danych osobowych.
Są to pracownicy na pierwszej "linii frontu" bywa, że obsługują petentów oraz klientów telefonicznie i stacjonarnie, zajmują się pocztą przychodzącą oraz wychodzącą, obiegiem dokumentacji w danej organizacji, zamawianiem materiałów biurowych potrzebnych do wykonywania swojej pracy, obsługą kontrahentów. Zdarza się, że na takie osoby przeprowadza się ataki socjotechniczne, w celu wyłudzenia danych dotyczących organizacji. Wszyscy pracownicy sekretariatu powinni również być zapoznani z jego funkcjonowaniem oraz zapoznani ze szkoleniem związanym z ryzykiem przetwarzania danych osobowych.
Można śmiało powiedzieć, że największe ryzyko występuje podczas weryfikacji petenta/klienta (największy problem istnieje podczas weryfikacji telefonicznej, ponieważ nigdy nie mamy 100% pewności z kim rozmawiamy, więc kluczowe jest zadawanie dodatkowych pytań, na które pracownik zna odpowiedzi i może osobę zweryfikować, np. wcześniejsze informacje wprowadzone w systemie).
Kolejnym przetwarzaniem związanym z istotnym ryzykiem jest wysyłanie maili niezaszyfrowanych zawierających dane osobowe, pomyłka we wprowadzanym adresie mailowym, wysyłanie maila z widocznymi dla wszystkich odbiorcami. Przez pośpiech zdarzają się również pomyłki w wysyłanych listach (nie raz pismo kierowane jest do innego adresata i dochodzi do incydentów lub naruszeń).
Pod żadnym pozorem osoby nie powinny klikać odnośników znajdujących się w otrzymanej poczcie, w szczególności w korespondencji niezamówionej lub pochodzącej od nieznanych osób, instytucji i firm – gdyż istnieje wysokie ryzyko ataku phishingowego.
Spory problem dla pracownika sekretariatu pojawia się natomiast podczas udostępniania danych osobowych przez ADO (zachodzi między niezależnymi administratorami danych osobowych) lub dla osób trzecich. W praktyce oznacza to konieczność ścisłej weryfikacji osób czy podmiotów, które wnoszą o udostępnianie danych osobowych. Ich powierzenie osobom trzecim musi określać podstawa prawna, która daje możliwość występowania o przekazanie odpowiednich informacji w związku z zaistnieniem konkretnych okoliczności. Zatem osoby pracujące w sekretariacie uczestniczą po części w procesie realizacji prawa osób fizycznych.
W tym wypadku odpowiednie szkolenie związane z ochroną danych osobowych na stanowisku pracy jest bardzo pomocne, pomaga również opracowanie funkcjonujących regulaminów i procedur np.:
Regulamin Ochrony Danych Osobowych
Polityka czystego biurka i ekranu
Regulamin udzielania informacji
Procedura weryfikacji tożsamości
Zasady postępowania osób upoważnionych
Procedura postępowania w sytuacji incydentu ochrony danych osobowych
Instrukcja postępowania w razie zdarzenia losowego lub zmiany miejsca
Procedura realizacji prawa osób fizycznych
Po szkoleniach pracownik staje się bardziej świadomy przetwarzania danych osobowych w codziennych czynnościach służbowych, wie na co zwracać uwagę, co robić jeżeli dojdzie do incydentu lub naruszenia, staje się też bardziej dokładny w wykonywaniu obowiązków (np. przygotowywanie poczty wychodzącej, wysyłanie maili, weryfikacja telefoniczna). Szkolenie nie tylko zwiększa świadomość, ale pozwala pracownikowi z czystym sumieniem podpisać oświadczenie o poufności danych. Natomiast Administrator następnie może nadać takiemu pracownikowi upoważnienie do przetwarzania danych osobowych w organizacji zgodnie z jego zakresem obowiązków.
W dobie pandemii gdzie występuje problem z prowadzeniem szkoleń stacjonarnych u klienta, ze stworzeniem odpowiedniego szkolenia podnoszącego świadomość pomocny jest nasz serwis RODO Online. Należy zaznaczyć że jednym z obowiązków IOD zgodnie z art. 39 ust. 1 RODO jest szkolenie pracowników, nasz serwis daje możliwość dodania prędzej przygotowanego szkolenia, można dodać materiały oraz zweryfikować wiedzę za pomocą przygotowanego testu dla pracowników. Pracownik otrzyma certyfikat przebycia szkolenia a ADO czy IOD będzie mógł wykazać ten fakt – idealne narzędzie do pracy Inspektora Ochrony Danych albo świadomego Administratora Danych Osobowych.
Aby dowiedzieć się więcej zapraszamy do kontaktu z naszymi specjalistami:
e-mail: pomoc@rodo-online.eu
tel. +48 885 206 000
tel. +48 885 960 500